Boat & Yacht Electrics Course
Keeping complex electronics running safely, reliably, and efficiently takes a little time and effort but above all - it takes knowledge.
Learn about boat electrics in your own time, at your own pace, click on any course and start your first lessons before enrolling.
Access the course material anytime after completion, stay up to date, and keep your knowledge fresh.
New career, up skilling, or side skilling? We teach the professionals too, the same material, push your knowledge to a high professional marine electrical and electronics technician level with the full MET level 3 package.
Courses written and supported by professionally Certified BMET, ABYC, & NMEA Marine Electricians who are also OfQual AET 3 qualified teachers
The MECO online Boat Electrics Courses build your understanding from the basic concepts right though to the finer details of Boat Electrics.
Empowered with your new skills you will be able to prevent, find and fix electrical issues on board.

30 Day Satisfaction guarantee
No time limits, access for life
Course Package Full MECO MET 3 Masterclass Pro

Do it like a pro with MECO!
Learn everything there is to know about small craft Marine electrical and electronics systems from the essential basics right up to an advanced professional electronics level.
The MET 3 Masterclass Pro package follows the relevant global and national industry standards for marine electrical and electronics installations from the very basics of ensuring electricity flows safely and efficiently in a circuit, through to fully comprehensive study of how digital electronics function and communicate with each other from transducer - signal - application. This course is highly detailed and teaches how (40 year) old and new electronics can be interfaced safely and reliably.
Whilst the MECO MET3 course is hugely popular with hands on boat owners, skippers and crew - we now have many trainee marine electricians enrolling to boost their existing current marine electrical skills up to an advanced marine electronics level. For an Advanced Level 3 lesson preview on Calculating RF Signal Loss click here.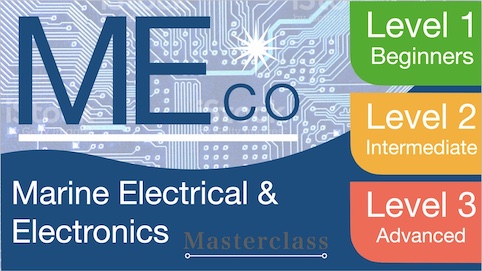 Proud members of the British Marine Federation. MECo training is a member of The British Marine Federation, and as such is signed up to an extensive Code of Practice offering customers additional confidence that the service provided will be the best.