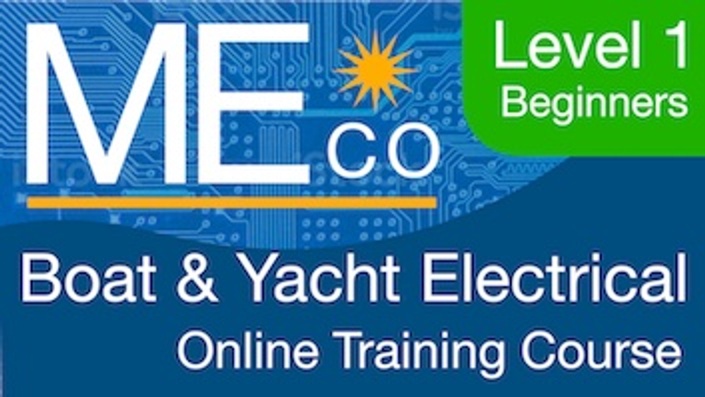 Boat & Yacht Electrical Course (Level 1)
Elementary Marine Electrical Course for Yachts and Small craft up to 24m
Watch Promo
Start with the Basics - Boat & Yacht Electrics
Last Updated: Sunday, 28th May 2023
Many boat owners and skippers expect their onboard electrical system to be at least as reliable as that of a modern car, and are quite happy to just call an engineer should a fault occur.

The reality is that marine electrical systems do fail, and you can't just 'pull over' out at sea; once offshore - you are the engineer!
Why do Boat Electrics fail?
Operating in one of the most challenging environments on earth, a poorly installed or poorly maintained marine electrical system has the potential to let you down, without warning when you need it the most.
The marine electrical system is very often incorrectly installed from the outset, with many yachts, even brand new falling short of recognised standards.

However, the most common causes of electrical faults are incorrect installations, lack of preventative maintenance, and no routine electrical checks.
Many small-craft electrical faults can be prevented, found and fixed with basic tools, a little effort, solid marine electrical knowledge, and a little patience!
Electrical Safety Standards
The EU and UK both follow the standards for small craft wiring as set out by ISO.
In the US the standards for small craft wiring are set by the ABYC.
Skippers and crew often operate vessels that can are wired to either of these so the MECO courses are not tied to a single standard, we cover both ISO and ABYC key methods, highlighting the similarities and key differences in the approach to cable sizing in particular.
Newer small craft electrics are generally more reliable, but if cables are poorly secured, after just a few hours in a rough sea things can quickly start to fail. New yachts need a thorough electrical inspection, and a good shake down on shorter coastal trips before venturing offshore.

It's important to note that the electrical regulations on land are much more strict than they are on small craft, it is not uncommon to see even new builds that do not meet the required standards.
Causes of Yacht and Boat Fires
A Staggering 52% of small craft fires are caused by the electrical system, the chart below shows the breakdown.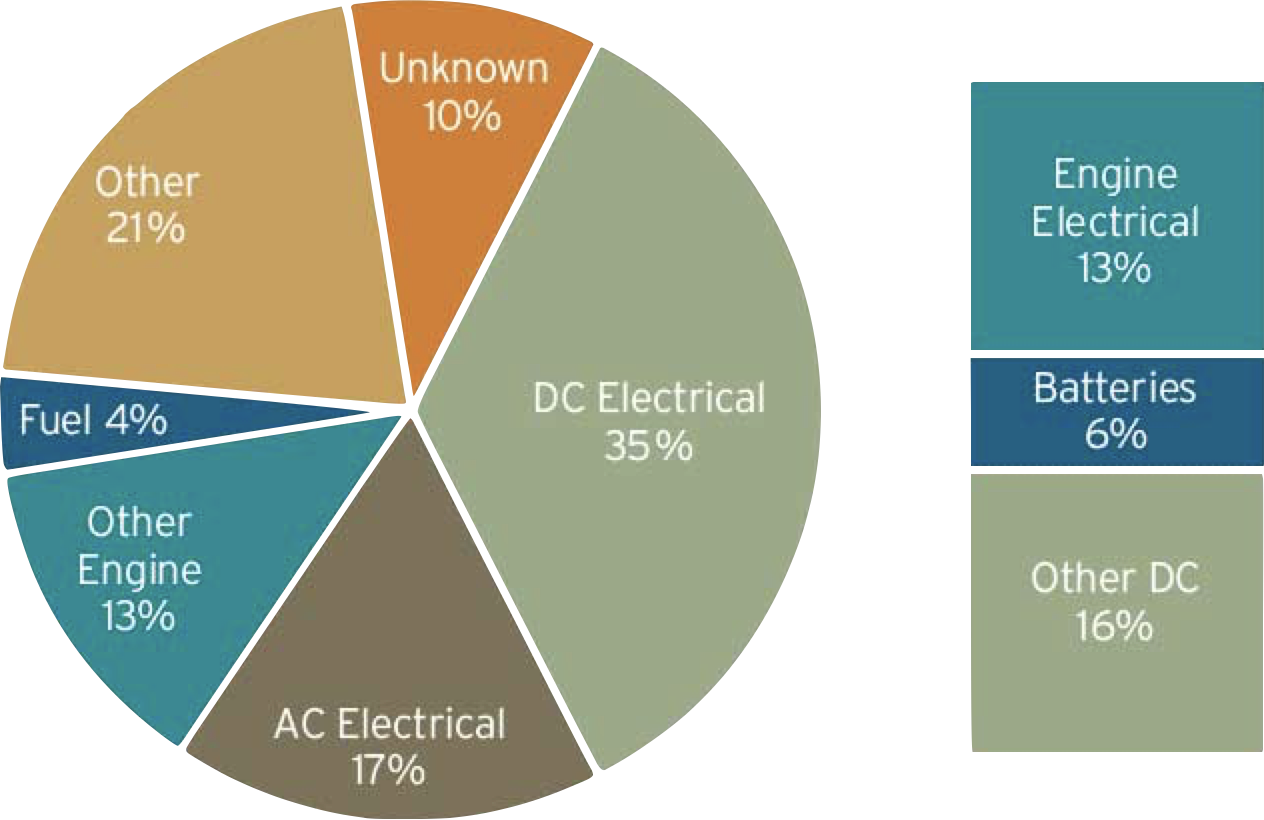 What's even more amazing is that these fires would have been easily preventable with some basic electrical awareness, and maintenance.
Like all on board systems, the electrical system needs inspecting and testing, most boat owners only pay attention to the electrical system when theres a fault.
These faults can be prevented with 'electrical awareness' for example, if your mainsheet is chaffed you would replace it, as it's not safe; why not apply this approach with all safety-critical on-board systems?
Baffled by your boats electrics?
You're not alone! When viewed as a whole, it's a complex system, multiple voltages, multiple sources of power, AC and DC..... Many of my learners tried researching free resources online only to find this just adds to the confusion.
Most of my learners have already tried:
Youtube videos, only to find that these are

often either released to keep you watching for longer for ad revenue, or designed to promote their product or service; or demote that of a competitor. They can be very convincing but they are often produced with no regard for the audience, quoting US regs to EU audience, and vice versa, whilst using electrical terms that simply mean different things in different areas.
Facebook groups, only to be faced with conflicting advice, offered from people who do not have the training, knowledge or experience to be advising on such a safety critical system.
Books, much better than the above, and a great addition to a course - but just reading about a subject only works for a certain type of learner, and even then - it is only a small part of the wider learning process.
How can I - Help you?
If you want to learn about the small craft electrical system, as a qualified marine electrician, and qualified teacher, I have helped hundreds of boaters, yacht crew, and trainee marine electricians learn about the small craft electrical system - and I am here to help you too.
Your Instructor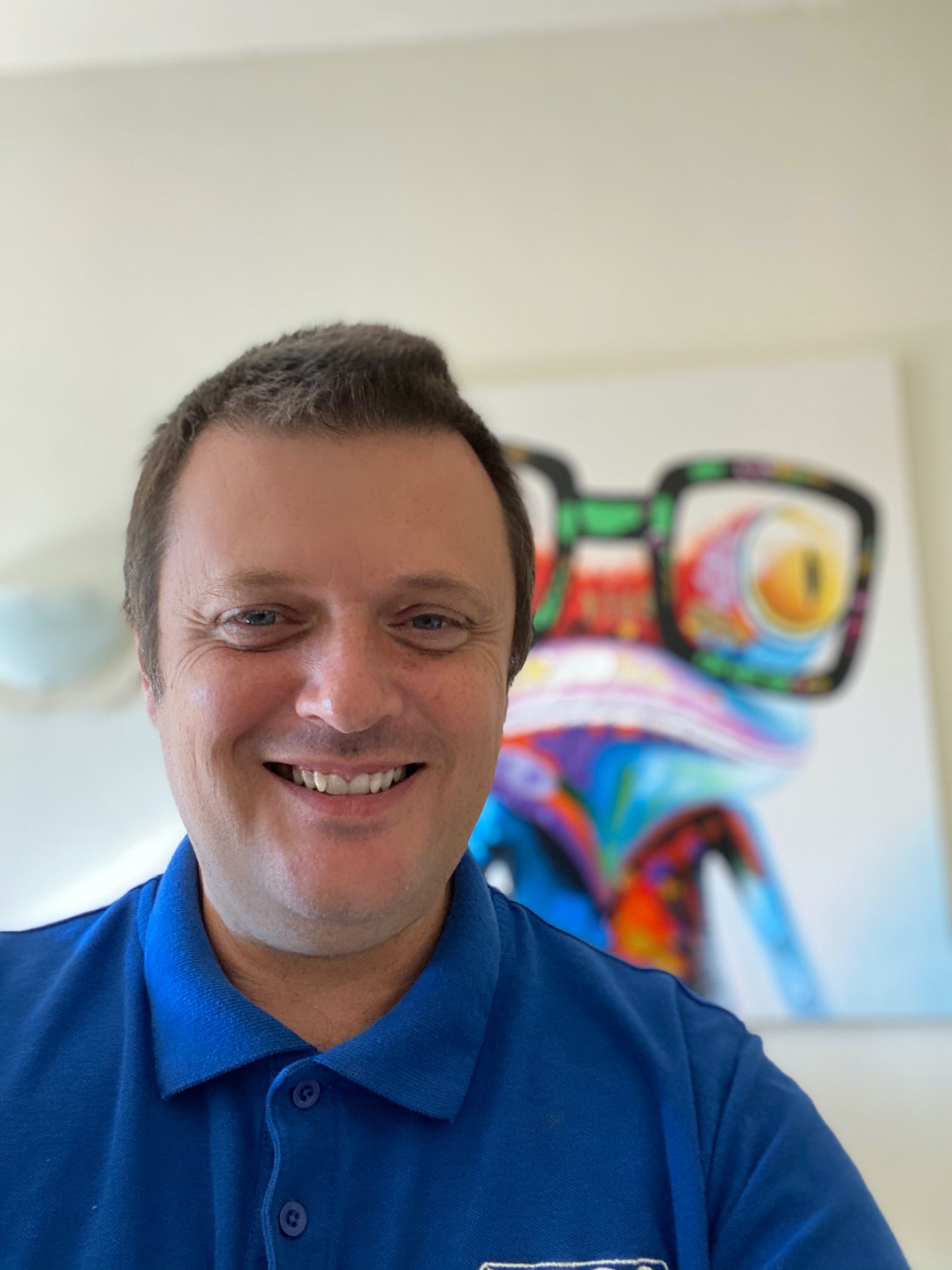 Hi there.
I began sailing as a small child with my dad and grandad when we first ventured out in a 30 foot ketch into a rather bumpy Lune river in the UK, we had some fantastic adventures! This inspired me to gain my Yachtmaster certification and head into the teaching world as a Yachtmaster instructor.
Prior to achieving my Yachtmaster I had worked as a marine electrician, so combining my two skills the decision was made to start teaching Maritime Engineering Courses to boat owners, skippers and crew as there was clearly some demand for this. I am also a fully certified marine electrician, and NMEA 2000 engineer.
So if you'd like to improve your knowledge of on board systems, I'm here to help.
Best wishes.
David Punch
Join Us at MECO Training
Join the community here at MECO and get support from a panel of fully qualified and experienced marine electricians and electronics engineers, with well over 25 years experience on everything from PWC's, powerboats, sailing yachts, narrowboats, super yachts to mega yachts, pilot boats, and even lifeboats.

When viewed as a whole, it's a complex system, so during your course, we evaluate first each component of each circuit one by one, study in detail how it works, in order to learn specifically in great detail - how it can fail, so we can ensure it works reliably and efficiently.

The devil is in the detail with marine wiring, the largest and most complex system can fail due to a microscopic grain of salt in the wrong place, or a poorly secured, or a chaffed cable.

Course Aims & Objectives
The course starts from the very basics, and progresses through how each basic electrical component dovetails to form a safe and reliable on-board electrical system.
After the course you will hold a much better overall understanding of the marine electrical system, and what was once a 'complex electrical problem' will now become just a routine repair.
Ability after the course
Prevent, find and fix basic electrical faults - this is a key learning outcome of the course.

Make sure the boats electrical system is operating safely, and at peak efficiency as a whole.

Evaluate a small craft electrical system and identify regulatory breaches, electrical hazards and fire risks.

Conduct simple preventative maintenance tasks on the electrical system.

Be aware of limitations, and which electrical work requires professionals.
Who is this course for?
Is this course for me?
Here at MECO Training - beginners are always very welcome! You do not need ANY pre-course electrical knowledge at all for this Level 1 course.
The Level 1 course starts off with a step by step detailed study of the fundamental electrical principles, and then quickly ramps up progressively through to a very detailed study of the key components and how they interact within a typical small craft electrical system.
The Level 1 course is ideal for:
Sail & Power boat owners

Private Skippers

Commercial Skippers

Yacht Crew

workboat crew,

Charter fleet operators

Marine electrical companies are enrolling their apprentices in MECO training courses.
Course Features
Each section of the course has clear, concise (10 minutes max) and step by step animations with voice over, you can pause and rewind, in fact you can watch each presentation as many times as you need. We realise your time is precious, so the presentations are honed to deliver highly detailed and complex electrical concepts, using a plain English, and easily relatable, everyday analogies.
You will find a comments box in each section that allows you to ask questions, and read other students' questions and answers too, this has proven to be an effective learning (and teaching - I learn a lot from these questions too) - resource. If you prefer you can email your questions privately, directly to me, the course creator.
At the end of each section there are informal quiz questions to ensure that learning is taking place and to re-enforce the knowledge. It takes time to learn properly and with MECO there are no time limits...
You can access a selection of the lectures before you enrol, each level has a number of lectures that are free to preview, there's usually a few from the beginning, and one from later in the course so you can see how the course progresses.
Multiple Regulations and Standards.

MECO Training provide a unique training opportunity to evaluate and compare the various marine electrical standards as set out by, UK, BS, BMF, EU, RCD, RCR, ISO, ABYC, and NMEA. Mostly these organisations are calling for the same, or very similar practices, but where any significant differences exist - we highlight the variations.
MECO courses provide fair use access to the material - even once the course is complete. This has a number of advantages, the best of which is that much of the subject material changes regularly, either due to new technology or changes in the many regulations as set out by the ABYC, ISO, RCD / RCR and NMEA to name a few!
Course Completion Certification

Completion of the Level 1 course is achieved by watching all the presentations and completing all the informal quizzes to a suitable standard. Upon course completion an electronic downloadable certificate is provided, and if you are completing the course purely for personal use then this is all that's required. However, if you are sponsored, your employer is funding the course, the certification is to be used as an entry qualification to a higher course, or you would just prefer the more formal physical certificate - then you can complete the Formative Assessment. (see below)
Formative Assessment Certificate
Upon successful completion you may wish take the written exam, at no extra cost, for full MECO BYE Level 1 Certification. This can be completed at home, under proctored exam conditions, to then be marked and audited following the UK Ofqual standards. This formative assessment option is popular with companies who have funded the training for their staff, to ensure that the course has in fact been completed and that effective learning has taken place.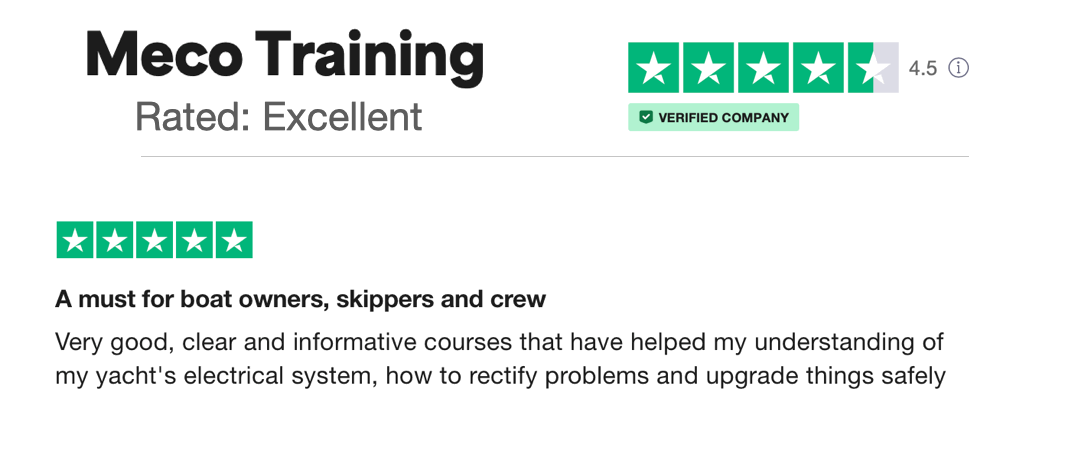 Frequently Asked Questions
When does the course start and finish?
The course starts now and never ends! It is a completely self-paced online course - you decide when you start and when you finish.
How long do I have access to the course?
How does lifetime access sound? After enrolling, you have unlimited access to this course for as long as you like - across any and all devices you own.
Are refunds available if I am not happy with my course?
Yes. If you are unsatisfied with your purchase, contact us in the first 30 days and we will give you a full refund.
Is there a certificate upon completion of the course?
Yes, well actually there are 2 options. One is a downloadable course completion certificate for successfully completing the course, and the other is achieved via successfully passing a proctored written exam at home, this is then marked and audited to UK Ofqual Standards.
Are the courses suitable for beginners, I have no electrical experience.
Yes, absolutely the course starts off from the very basics, there is no pre-course experience.
What regulations and standards do you follow?
The course is fully independently written so we can cover all the standards, and we even highlight where conflicts exist between standards, providing a single method that exceeds the most stringent elements of all the standards.
Can I get a job as a marine electrician after completing this course?
Yes, this level 1 is a fantastic start to get your 'foot in the door'. You can use the qualification to get a job as a trainee working under supervision alongside an experienced and qualified marine electrician. You can upgrade your course to the level 2 and 3 as you progress.